Magnifying Surgical Loupes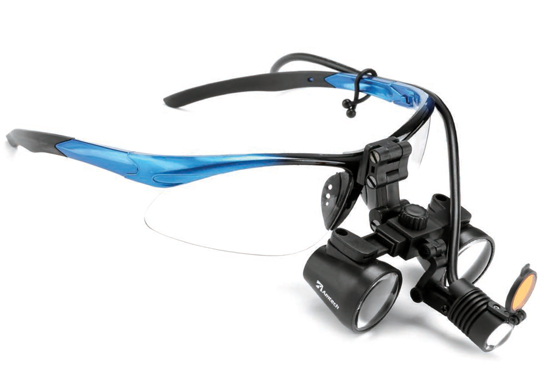 We do a better job when we can clearly see the details of the task at hand. Unfortunately, when working with small objects we tend to bend over in unnatural positions for extended periods of time. This can result in eye strain and back pain that can have long-term, detrimental consequences to our overall health and well-being. Using surgical loupes quickly improves vision and corrects poor posture.
Your Benefits

Improved Vision
With 2.5, 3, 3.5, 4, or 5 times magnification you will be able to see intricate details of your work area more clearly and perform the most delicate of surgical work on the smallest possible scale.
Reduced Eye, Neck, and Back Fatigue
You will no longer need to bend forward to get closer to your work area in order to see better.

Freedom of Movement
Unlike microscopes, surgical loupes move with your head so there is no need to hold your head steady to look into an eye piece. The work area can be easily repositioned when using loupes. With a microscope, your work area is fixed directly under the objectives.

Protection
Glasses and side protectors offer protection for the eyes from contaminating splashes or debris.

Easy Adjustment
A double-hinge, flip-up design provides superior optical alignment and ease of transition between magnified and normal field of vision.

See our full selection of magnifying loupes in our web store.