Available Products
Item #

Description

Magnification

Working
Distance
RS-6690


Clip-on loupes (glasses not included),
Double hinge, flip-up design
2.5 x
340 mm

RS-6697
Clip-on loupes (glasses not included),
Double hinge, flip-up design
2.5 x
420 mm
RS-6691
Wire frame without glasses
Single hinge, angle adjustment
2.5 x
340 mm
RS-6692
Wire frame with glasses
Double hinge, flip-up design
2.5 x
340 mm
RS-6693
Wire frame with glasses
Double hinge, flip-up design
2.5 x
420 mm
RS-6694
Wire frame with glasses
Double hinge, flip-up design
4.0 x
340 mm)
RS-6698
Wire frame with glasses
Double hinge, flip-up design
4.0 x
420 mm
RS-6695

Super bright LED light
6000 K (pure white)
11 g weight
Runs for up to 7 hours

-
-
RS-6696
Replacement eyeglasses cord $ 5.00
Adjusts to head with sliding lock
-
-
Your Benefits

Improved Vision
With 2.5, 3.5, or 4 times magnification you will be able to see intricate details of your work area more clearly and perform the most delicate of surgical work on the smallest possible scale.
Reduced Eye, Neck, and Back Fatigue
You will no longer need to bend forward to get closer to your work area in order to see better.

Freedom of Movement
Unlike microscopes, surgical loupes move with your head so there is no need to hold your head steady to look into an eye piece. The work area can be easily repositioned when using loupes. With a microscope, your work area is fixed directly under the objectives.

Protection
Glasses and side protectors offer protection for the eyes from contaminating splashes or debris.

Easy Adjustment
A double-hinge, flip-up design provides superior optical alignment and ease of transition between magnified and normal field of vision.


How to Choose the Right Product?

Magnification in 2.5X, 3.5X, and 4X Strengths
A 3.5X and 4X magnification loupe reveals incredible detail but comes with a small field of view. Your working distance has to be maintained more accurately, too. Choose a 4X loupe if you want to focus on a narrow work area and need to see the details that a higher magnification affords.
A lower 2.5X magnification results in wider field of view and lets you monitor a broader work area. Because of their greater depth of field, 2.5X loupes allow more freedom of movement as they are less sensitive to changes in your working distance.
Working Distance
The working distance is the approximate distance between your eyes and the object you work on. To choose a pair of loupes with the right working distance, imitate the circumstances of a surgical procedure and try measuring your working distance. Keep your back straight and be in a comfortable working position. People below 5'7" height usually need loupes with 340 mm working distance while taller persons need ones with 420 mm working distance in a sitting position.
Illumination
Vision can never be perfect without proper lighting. In case your work area is hard to light up, use our super bright LED light that attaches to our loupes. There are two intensity levels and the power is adjustable at each level. You will find it hard to look into the illuminated area at maximum power setting. The battery can run for 7 hours continuously at the lower level or for 4 hours at the high level. The light weights only 11 g and it illuminates a spot with a 70 mm diameter from 400 mm with 6000 K (pure white) color.
Loupes: Adjustment Instructions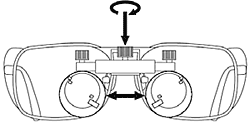 Inter-Pupillary Distance
Turn the inter-pupillary distance adjustment knob to increase or decrease the inter-pupillary distance until the image converges into one circle.


Viewing Angle and Flip-up Hinge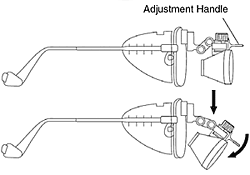 Adjust the hinge mechanism so that the optics are angled approximately 30 to 45 degrees below the horizontal line. This will allow you to look down into the optics while working, keeping an upright posture. Use the adjustment handle provided in the storage case to adjust the angle of the loupes. Use the screwdriver to loosen the screw marked with an arrow on the illustration below for viewing angle adjustments. Tighten the screw after the angle adjustment. Adjust the other screw to modify the flip-up tension.

Side Shield
Side shields provide extra protection from splashes and debris. Slide the side shields on from the tail of the frame.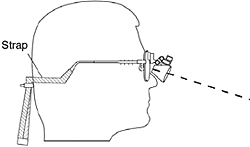 Head Straps
Adjust the strap to hold the frame on your head securely while maintaining wearing comfort.